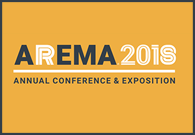 Sep 13, 2018
Company News: Visit Us at AREMA 2018
Stop by booth 400 during the 2018 AREMA Annual Conference and Convention to learn more about KKI products and services.
Sept. 16-19, 2018
Hilton Chicago, 720 S. Michigan Avenue Chicago, IL 60605

Jun 12, 2018
Company News: Visit Us at Africa Rail 2018
Stop by booth A49 during Africa Rail 2018 to learn more about KKI products and services.
June 12-13, 2018
Sandton Convention Centre, Johannesburg, South Africa.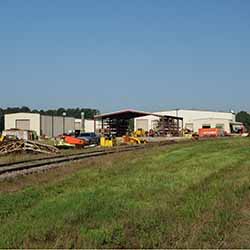 Jun 20, 2016
Company News: Knox Kershaw Inc. Plant Expansion
KKI has just completed an expansion to the manufacturing facility in Montgomery, AL to accommodate in house service work for customers, from general maintenance to complete overhauls and to expand the company's Remanufacturing division.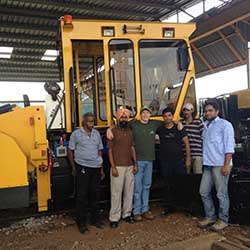 Mar 21, 2016
Service Update: KKI Expands Service Department
The company has grown its Service Department in the last few months to include extra service personnel for onsite training services and maintenance/repair of equipment both domestically and internationally.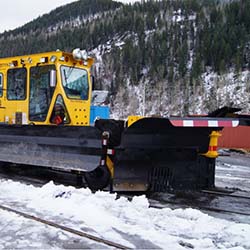 Sep 20, 2015
Product Update: KBR 860 for Snow Fighting
The KBR 860 ballast regulator is now offered with the option to accommodate a pair of snow wings with a reach of 13' from the track center, a four season plow that features bolt on curls, and a broom with an auger and blower attachment. It can be fitted with a manual or power shift transmission, manual or joystick controls, cold weather options, and jump seat.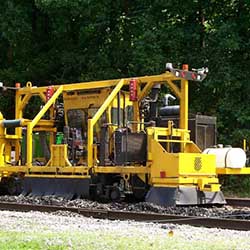 Jul 20, 2015
New Product Release: KKA 1050
Knox Kershaw Inc. has released the latest innovation in cribber adzer technology. The new KKA 1050 is designed to be easy to operate, simple to troubleshoot, and easily accessible for repair and service.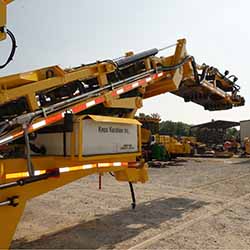 May 22, 2015
Product Update: KYC 550 Yard Cleaner with Folding Conveyor
The KYC 550 Yard Cleaner now incorporates a folding waste conveyor to ease over-the-road transportation. Rear tandem axle with road tires allow the yard cleaner to travel as a trailer behind a regular tractor.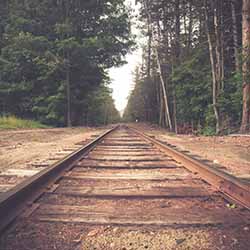 Mar 20, 2015
Company News: Knox Kershaw Inc. Receives Trade Award from Governor of Alabama
KKI was recognized by the Alabama Department of Commerce and the Export Alabama Alliance to be presented with the 2015 Governor's Trade Excellence Award for its commitment to export development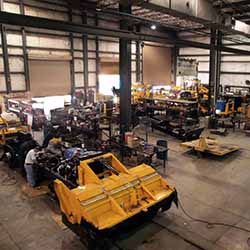 Feb 20, 2015
Service Update: KKI now stocking more inventory
KKI maintains a stocked inventory of the most commonly required replacement parts for quick shipment to the customer. They also offer telephone support for the life of the machine. The company also has a fulfillment site in Canada and in Brazil for international customers.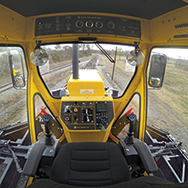 Nov 22, 2014
Product Update: KBR 925 Ballast Regulator
The Knox Kershaw KBR 925 ballast regulator got upgraded to a 260hp engine, heavy duty ballast wings and a bigger cab with better visibility and improved operator comfort.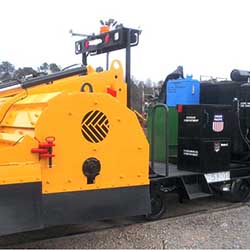 Aug 13, 2014
Product Update: KPB 200 Plate Broom
The KPB 200 has been updated to incorporate electronic controls to simplify use. The broom element clamps have been improved by incorporating a backing plate for element support when brooming in reverse, prolonging the life of the element. The clamp also incorporates a drilled and tapped mounting hole for easier maintenance.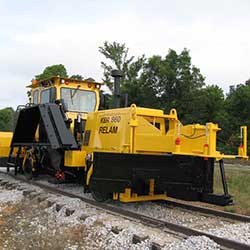 May 20, 2014
New Product Release: KBR 860 Ballast Regulator
The new ballast regulator in the KKI arsenal is an update from the 850 and 875 regulator models and includes a larger, 14 foot wheelbase to allow for a more spacious cab with greater visibility, a side mount A/C, optional joystick control and more.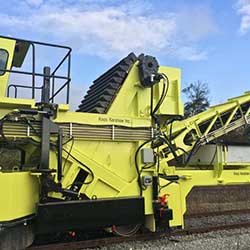 Mar 20, 2014
New Product Release: KYC 550 Yard Cleaner
The new KYC 550 has been completely redesigned from the old model KYC 500 to improve transportability, maintenance, accessibility, and operation.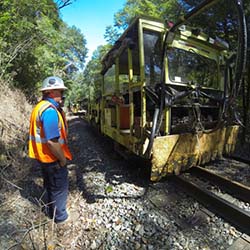 Jun 20, 2013
Service Update: Get KKI quality training on more products
Knox Kershaw Inc. now offers service visits for training in operation and maintenance for KKI machines and other track maintenance equipment. KKI saw the need to expand upon the training offered under the typical machine warranty because well trained operators and mechanics in the field greatly improve productivity and extend the life of maintenance machines.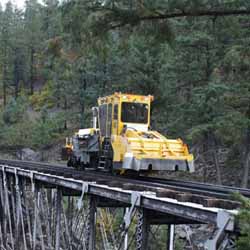 Jan 22, 2013
New Product Release: Dual Gauge Ballast Regulators
KKI now offers 2 convertible gauge ballast regulators that can convert from standard (56 ½ in. ) to wider gauges and from standard to narrower gauges. This is especially interesting for customers who work in areas where multiple gauges are frequently used.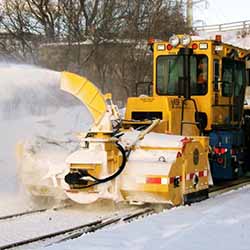 Feb 20, 2012
Product Update: KSF 940 Snow switch Cleaner Attachment
Knox Kershaw Inc. has introduced a new snow switch cleaner attachment with a high capacity blower unit to compliment their newest KSF 940 snow fighter/ballast regulator.